Luxury products shine as Chinese turn brand-savvy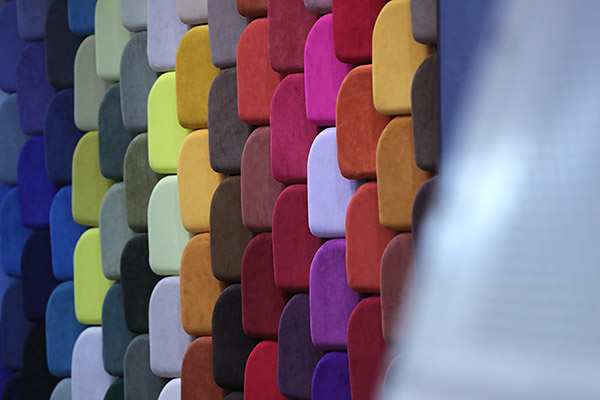 Colored material made from Alcantara SpA fabric on display at the Aircraft Interiors Expo in Hamburg, Germany, in April 2017. [Photo/Agencies]
BEIJING-Chinese consumers are becoming increasingly sophisticated and brand-savvy, underpinning a fast-growing market for luxury products, according to an Italian luxury material manufacturer.
"The Chinese consumer market is promising not only because of its volume but also because local consumers are very reactive, enthusiastic about new things and sensitive to brands and quality," said Andrea Boragno, chief executive officer and chairman of Alcantara, which makes a leather substitute used in fashion, accessories, automotive interiors and consumer electronics.
The company opened its second international store in Shanghai in April following a concept store in Milan where the company's headquarters are based.
China is one of the two fastest-growing markets for Alcantara and the second largest market after the European Union, in terms of sales last year, according to Boragno.
In his view, Chinese designers have taken big strides in recent years by shifting from copying to developing their own identity based on their creativity and culture. The company is already working with Chinese designers.
The company will stick to "Made in Italy" to maintain exclusive quality while planning to work with Chinese brands in the future, he said.
Boragno attributed Alcantara's popularity in China to Chinese consumers' willingness to pay for exclusivity as well as the recognition of a green lifestyle.
The carbon-neutral-certified material producer has been able to reduce and offset its greenhouse gas emissions to zero since 2009 through advanced and efficient production processes and participation in global sustainable initiatives.
Last year, Alcantara invested 22 million euros ($24.64 million), of which more than $7 million was devoted to sustainability-related activities. It plans to invest 28 million euros this year, with over 25 percent of spending on health, safety and environmental activities, according to the company's annual report.
"Going green will not hurt profits in the long run. Instead, we strongly believe that the generation of value for stakeholders can become a driver to generate value for shareholders," Boragno said.
Using its material, Alcantara organized an exhibition on the sustainability theme in Italy last week, which included works from Chinese calligrapher Qin Feng.
Sustainability is a necessary factor that will help materialize the long-term objective of increasing the company's financial value, Boragno said.